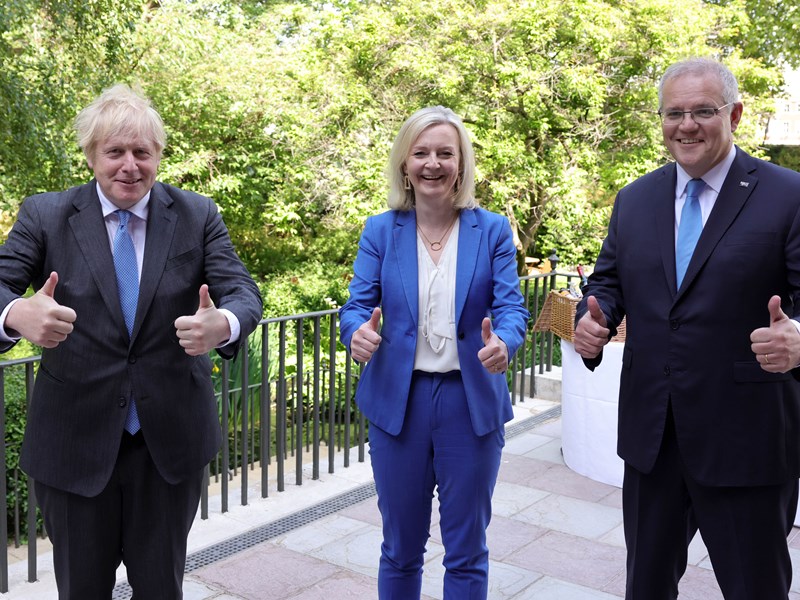 The UK has secured a trade deal in principle with Australia eliminating tariffs on all UK goods and boosting jobs and businesses across the country, in the first major trade deal negotiated from scratch by the Government since we left the EU.
The main elements of the deal were agreed by Prime Minister, Boris Johnson and Australian Prime Minister, Scott Morrison at a meeting in Downing Street on the 14 June.
The Prime Minister, Boris Johnson said:
"This is global Britain at its best – looking outwards and striking deals that deepen our alliances and help ensure every part of the country builds back better from the pandemic."
The new Agreement in Principle (AIP) would mean that iconic British products like cars, Scotch whisky, biscuits and ceramics will be cheaper to sell into Australia, boosting UK industries that employ 3.5 million people across the country. The UK-Australia trade relationship was worth £13.9 billion last year and is set to grow under the deal, creating opportunities for businesses and producers in every part of the UK.
The AIP with Australia would also be a gateway into the fast-growing Indo-Pacific region and will boost our bid to join CPTPP, one of the largest free trade areas in the world, covering £9 trillion of GDP and 11 Pacific nations from Australia to Mexico.
Secretary of State for International Trade, Liz Truss, said:
"This deal delivers for Britain and shows what we can achieve as a sovereign trading nation. It is a fundamentally liberalising agreement that removes tariffs on all British goods, opens new opportunities for our services providers and tech firms, and makes it easier for our people to travel and work together."
Last week (22 June) the Department for International Trade in the East Midlands, North West and South West of England hosted a joint webinar, attended by over 70 British businesses to discuss the benefits of trade agreements in general with a focus on Australia. Attendees heard how they could take advantage of opportunities arising from these trade agreements, what support was available to them, and heard expert advice from Australian solicitors Kepdowrie Chambers and Export & Trade Policy expert, Jim Thompson.
International Trade Adviser, Margaret Bourke Said:
"Australia has always been a popular market for British companies and as Julian Gygnell, one of our speakers said last week, there are now even more good reasons for UK companies to consider the Australian market."
To find out more about how the Department for International Trade can help your business exporting to Australian markets, visit great.gov.uk.