The UK-Japan Agreement
On 22 October the government announced that it had signed a new UK-Japan Comprehensive Economic Partnership Agreement (CEPA) - the UK's first Free Trade Agreement (FTA) that goes beyond its existing EU deal.
The CEPA is the first major trade deal that the UK has struck as an independent trading nation. It was signed by Trade Secretary Liz Truss and Japan's Foreign Minister Motegi Toshimitsu on 23 October. It is expected to take effect from 1 January 2021.
Across the country, the deal could increase trade by £15.7bn, giving a £1.5bn boost to the economy and increasing workers' wages by £800m, as confirmed by The Department of International Trade. It could also benefit more than 700 businesses in the North West that exported to Japan last year and encourage new business.
North West relations with Japan
North West firms have demonstrated significant appetite to expand into the Japanese market in recent years. More than £5.5bn of goods were exported into the region in the last decade, according to analysis by Deloitte.
In the period 2010 to 2019, annual exports to the Asian nation and world's third-largest economy averaged at £550 million, with 2012 seeing the highest figure at £795 million of trade from the region's businesses.
Trading relations between Japan and the North West have been strengthened in several sectors, with the chemical products sector accounting for £3.4 billion of exports, or 62% of total trade. Machinery and transport and the manufacturing sectors (accounting for £1.3 billion and £765 million respectively) also saw significant interest, research from the business advisory firm, in partnership with MIDAS and GMCA suggests.
Testimonials on trade with Japan
Local North West businesses share their positive experience on trade with Japan.
Mike Wilton, Director for Civils Infrastructure and Manchester Office Leader at Arup states:
"We have a team of over 100 people based in our office in Tokyo and have worked on projects in Japan for over 30 years. Indeed, we are one of the few independent foreign registered engineering consultants in Japan, providing multidisciplinary services to help both inbound and outbound clients explore a world of opportunities, within and beyond their frontiers.
Arup welcomes the new trade deal as a confirmation of the close and continuing partnership between our two countries. Arup teams, both in the UK and Japan, have supported close ties between the two nations for many years. Particularly on projects such as, the new national stadium in Tokyo and the V&A in Dundee designed by Japanese architect- Kengo Kuma & Associates. We are delighted to see this collaboration develop for the future."
Head of Asia Pacific Development for The Growth Company International Trade, Philomena Chen said:
"The trading relationship between the North West and Japan is already strong. The new partnership between the UK & Japan is one of many reasons for optimism in the years ahead. As demonstrated by Arup, with their strong links and projects in Japan and support to Japanese organisations around the world. We are here to open up new opportunities for North West businesses large and small."
EDM, which is another successful North West business, has excellent relations with Japan.
Lee Whittaker, Head of Sales says:
"EDM is the world's leading supplier of training simulators to the civil aviation, defence, and rail markets. With over 48 years' worth of experience, EDM have established a strong foundation that combines the highest engineering standards with cutting edge technologies that lead the industry today.
EDM has been exporting to Japan for several years and the new trade deal represents a significant step forward for the UK economy and for our business. It strengthens our long-lasting partnership with Japan and we're confident it will help secure further business in the region."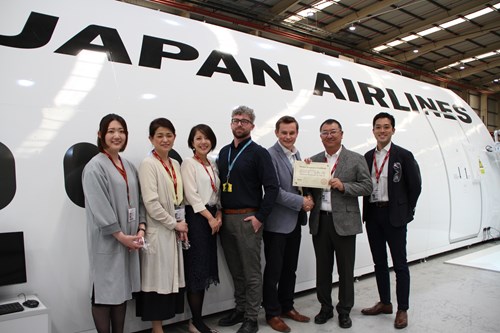 In addition, Jo Ahmed, Global Employer Services Partner at Deloitte, and Honorary Consul of Japan in Manchester said:
"Japan represents an enormous growth opportunity for many businesses in the North West, both in terms of direct exports and ongoing collaboration and joint ventures. As we have seen, there has been a huge amount of appetite and investment from Japanese businesses in North West products, which has brought with it significant economic benefits for the local area."
More information
Check duties and customs procedures for exporting goods
Look up tariffs, taxes and rules to trade with the UK