Challenging times can and do happen. And while it's natural to focus on the negative impact to your business, it is perhaps more beneficial in the long term to look at crises from an alternative perspective - to take a different approach. Crises can be difficult to navigate, but they do provide a unique opportunity to review and adapt existing business models to better meet the evolving needs of customers during tough situations.
Crisis situations can not only change what customers want and need from a business, but also what they expect from the organisations that they choose to partner with.
Opportunities for Change
Reinventing your business means considering both internal and external opportunities for change; adapting internal processes to generate new levels of relevance and adapting customer-facing services to meet the niche needs arising from the crisis.
The 2020 Coronavirus pandemic is a perfect example of a global crisis that sparked reinvention across multiple industries and sectors. The crisis saw brick and mortar retailers switching to home delivery services in a bid to maintain sales during social isolation and 'stay at home' orders. It also saw internal reinvention, such as industrial manufacturers building new ventilators for hospitals, and breweries making hand sanitizer and soaps.
But how have these businesses managed to reinvent themselves while dealing with a major crisis? By taking a three-stage approach to manage uncertainty.
Stage 1: Apply Management Crisis Models
According to PwC, 57% of CEOs believe that their business is vulnerable due to outdated strategies that would not help the organisation to respond in times of crisis. It is important to understand the benefits of crisis management models, and how to apply them in times of need. There is a number of models for crisis management, including the Crisis Management Process Cycle, which splits crisis management into 6 stages:
Anticipate & identify
Assess & analyse
Manage & Control
Execute & Respond
Evaluation
Preparation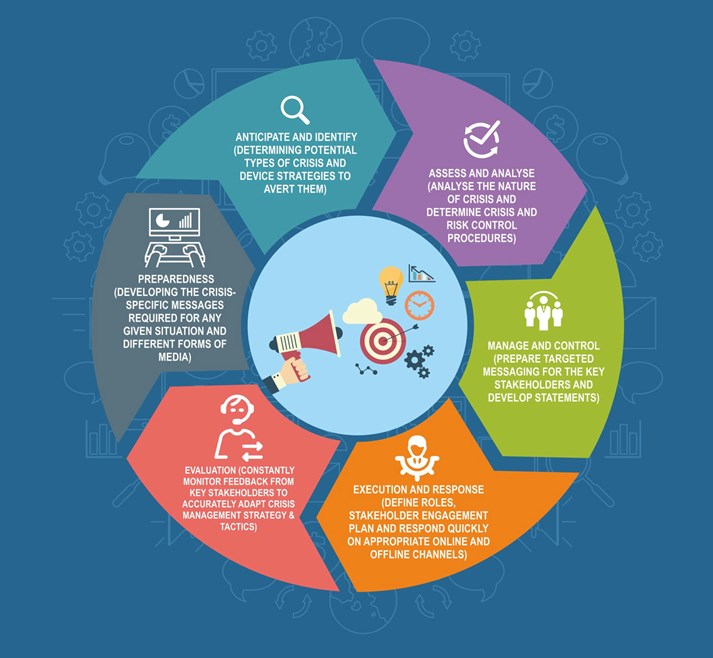 Source: CRS - Crisis Management
While crisis management models are not designed to directly help you to reinvent your business, they do form an important prerequisite for reinvention. By applying these models, businesses can ensure they are giving themselves an opportunity to first focus on initial survival and stability before making changes to processes and procedures.
Stage 2: Apply Innovation Models
Once a business has been stabilised in light of a crisis, it's time to take advantage of the situation by configuring plans, adapting offerings, and prioritising customer experience. PwC's Crisis Readiness Model highlights the importance of bringing together strategic decision makers and using big data to make data-driven changes to existing processes. Applying innovation models is about understanding how the 'language' of your customers can be changed by crisis, and ensuring you're speaking the same tongue.
Under the innovation model, there are four distinct aspects to take into consideration:
The skills and experience of your team. How could you align the skill sets currently available within your business with the new, changing needs of your audience?
Potential networking opportunities. What new partnerships could you forge under these circumstances that could help you to expand or tailor your offerings?
Complementary products and services. Think outside the box to make your niche skills relevant to the situation, like breweries switched to sanitiser during Covid-19.
Tracking and monitoring. When entering the unknown, it really is a case of trial and error. Track engagement so you can ensure you're supporting customers.
Stage 3: Understand Emotional Behaviour
Reinventing your business during crisis isn't just about external reinventions… it's about internal reinventions, too; it's about understanding not just how the needs of your customers are changing, but about how the needs of your employees are changing and how their emotions can affect behaviour and motivation. No one wants to experience a crisis, but it can't be denied that there's nothing quite like an unexpected crisis to identify suboptimal working practices and highlight room for improvement.
In relation to the Coronavirus pandemic specifically, let's take a look at Google. Granted, this is a large corporation with the ability to offer high levels of flexibility, but their support of the emotional needs of their employees is a good example. The search engine giant was amongst the first to instruct employees to work from home, even before stay at home orders were given out by the Government. In contrast, other businesses continued in their efforts to bring staff into the workplace against government advice. While working from home won't be relevant in every crisis, it does demonstrate how some businesses are working to understand and prioritise emotional support while others are prioritising core business operations.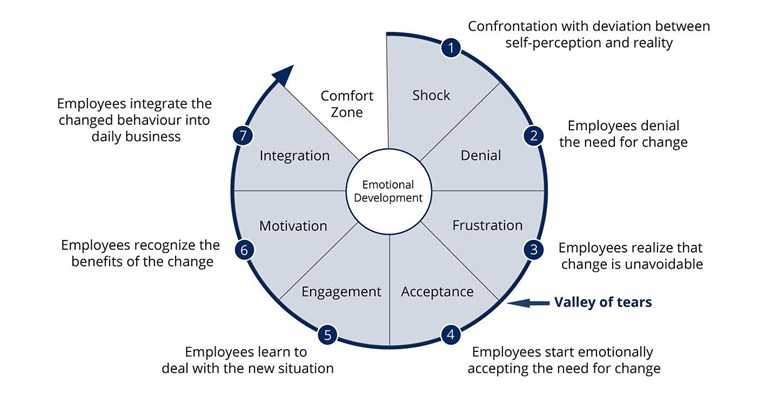 (Source: Leanovative - Phases of Change)
In times of crisis, employees may go through 7 stages of emotional development:
Shock
Denial
Frustration
Acceptance
Engagement
Motivation
Integration
Try to offer support to guide valuable employees through these stages all the way to integration, when they are ready to integrate changed behaviours into daily processes.
Help When You Need it Most
Felipe Escandon, Senior Innovation Advisor at Enterprise Europe Networks says:
"Any kind of crisis can be highly challenging and worrying for small business owners. And while we may not be able to prevent crises from happening, or have any sort of direct impact on the crisis itself, we are in control of how our businesses handle the situation. Crises are not a time to stand still. They're a time to act, to acknowledge change, and to adapt to ensure we all emerge strong and healthy on the other side."
If your business is struggling due to the impact of the pandemic, our advisers at Enterprise Europe Network can help you with innovation and finding opportunities to manage the crisis impact. Contact EEN North West team now to receive support.