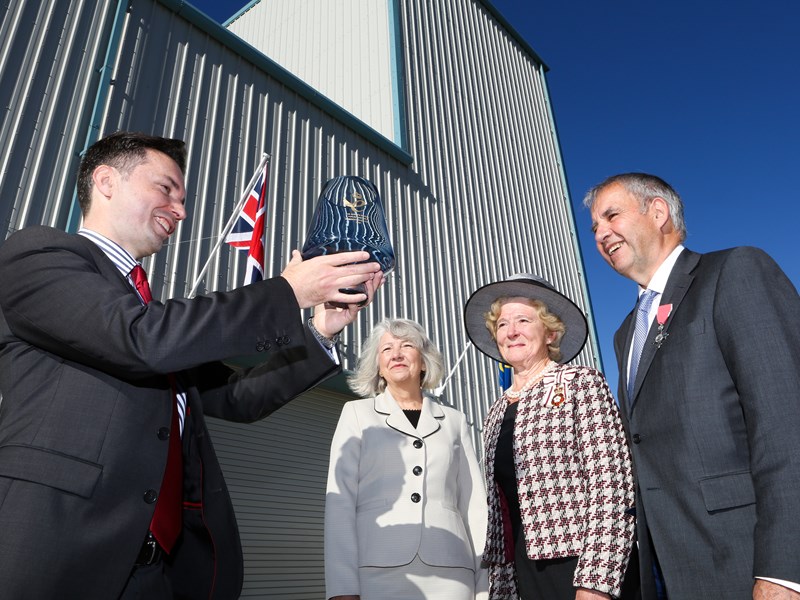 Carlisle-based manufacturing business Clark Door Limited has finally been presented with the Queen's Award for Enterprise: International Trade 2020- eighteen months after being awarded this prestigious prize.
On the 6th October 2021, Clark Door - a leading manufacturer of specialist door systems in the area - were presented the award by the Lord Lieutenant for Cumbria, Claire Hensman, and her deputy, Bryan Gray. The Lord Lieutenant believed it was now, at last, the appropriate time for the business to be given this award:
"Exporting is what need and live by, so you're (Clark Door) doing really important work, not just with Cumbria, not just with Clark Door, but for UK peers," she said.
"Thank you very much and many congratulations on your Queen's Award."
The day also saw the Lord Lieutenant and Gray taking a tour of the factory and the new £3 million research and development centre.
Initially awarded in April 2020, the Queen's Award for Enterprise celebrates the success of exciting and innovative businesses which are leading the way with pioneering products or services. Managing Director Clark Door, Andrew Ashley, says it has been a long-term goal to achieve this award:
"It has been an ambition of mine to win the Queen's Award for International Trade as soon as I heard about it from the Department for International Trade (DIT) many years ago," he said.
"It is very difficult to achieve as you have to show at least 3 years of an % increase in export sales, for us that was a challenge as our UK business has grown so much as well.  After the award ceremony, I gathered all our Carlisle-based employees together outside (the first time since Covid) and was able to thank everyone for their hard work and efforts which enabled us to win this fantastic award.  It was a real moment of celebration for the whole Clark Door team."
Andrew was also quick to praise DIT for the consistent support provided to Clark Door during their export journey:
"DIT were very helpful in the early days of our exporting journey," he added.
"As we have grown, we have added specialist staff to the team to do things better, we have trained them with DIT's support on export paperwork including Letters of Credit.  I am lucky to have found mentors who have guided me along the way particularly in the early days of our journey on for example protection of Intellectual Property and Export Finance."
"I would say that the Clark Door team's ambition, hard work, and delivering great projects with products that work really well for our customers was the key to our successful international growth.  DIT are not able to win orders or tell us how to manage our business but they have people who gave good advice at key moments."
To find out more about the Queen's Awards for Enterprise, or how you can access support to grow your business internationally: